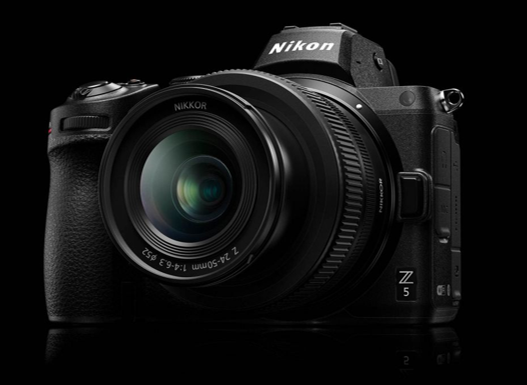 Last week I was fortunate enough to get my hands on the new Nikon z5, a week or so before the official release. Unfortunately, I only had about 48 hours to put this camera though its paces. However, this was enough time to find out that this little unit is brilliant. I am not (yet) a mirrorless user however this camera could sway me.
Verdict: Brilliant! Deeming it as an entry-level full-frame mirrorless camera is underestimating it.
The Pluses:
Most important to me

Dual SD card slots. (NEW)

273 points. Which covers 90% horizontally and 90% vertically.

Great features

In-Camera Image Stabilization rated 5 stops improvement

Small light (compared to DSLR),

Nikon EN-EL15c battery. (Also works with older EN-EL15b, EN-EL15a and EN-EL15.) (NEW)

Can be powered continuously with any appropriate USB C charger
The Minuses:
No illuminated buttons
Kit lens 24-50 lets this camera down.
ISO noise started at about 4000 and was grainy by 6400
50/50s.
The optical View finder:

PLUS: Awesome and you can set it up (func 2) that you can chimp your photos in screen.

It is a true representation of what you are getting in 99% of the time

MINUS: During night work it can be really pixelated but this does not affect the image..
Want just the tech specs scroll to the end (Click Here):
Want to know the whole story keep reading…
Even though Nikon is calling out the new Nikon Z5 an entry-level full-frame mirrorless camera, I was thrilled when I was asked to test it out. Being a full-frame fanatic, I was excited to see what they came up with.
Late Thursday afternoon I get the call that I can collect the Camera. It was awesome it had less than 10 shots on it.. WOW and it came with the kit Nikon Z -24-50mm ƒ/ 4-6.3.
Okay 48 hours to capture this camera!
The absolute first thing I noticed is that even thought his camera is roughly ½ (or less) the size of my DSLR it did not feel cheap or even too small; the ergonomics felt excellent, familiar even.
I had read all the stats of this camera; I knew what t expect. But the confirmation that there are two SD card slots made me very happy, and my first thought about this camera was that is it not entry level.
The Weather forecast was for two days of sunshine. Perfect! I excitedly got home and planned two days of intensive shooting. I was only provided with one battery so I was very pleased that, my EN-EL15a batteries would work in this camera. I never like going out for a shoot without multiple batteries.
BEEP BEEP BEEP 04:00 in the morning the Alarm, ripped me from my slumber …. Okay no it did not I was awake, excited for the shoot, but still it was cold, and I hated that infernal BEEPING. Half dragging half jumping out of bed, I quickly minimised the blood levels in my caffeine system and climbed in the car for the 45minute drive to the first location.
I quickly realised that the "mostly clear" forecast was wrong, it was low heavy clouds, and drizzling. An extremely useful and pleasing aspect of this camera is that it is weather sealed!
As a travel photographer we don't get to choose our days or rely on the studio to give us good light. We have an assignment and (usually a short time frame) to complete the assignment and get the shots. We are the postmen of photographers… "Rain or shine" and all the malarkey… Of course, I try to keep the cameras dry but knowing that a drizzle will not kill it I stuck the plan.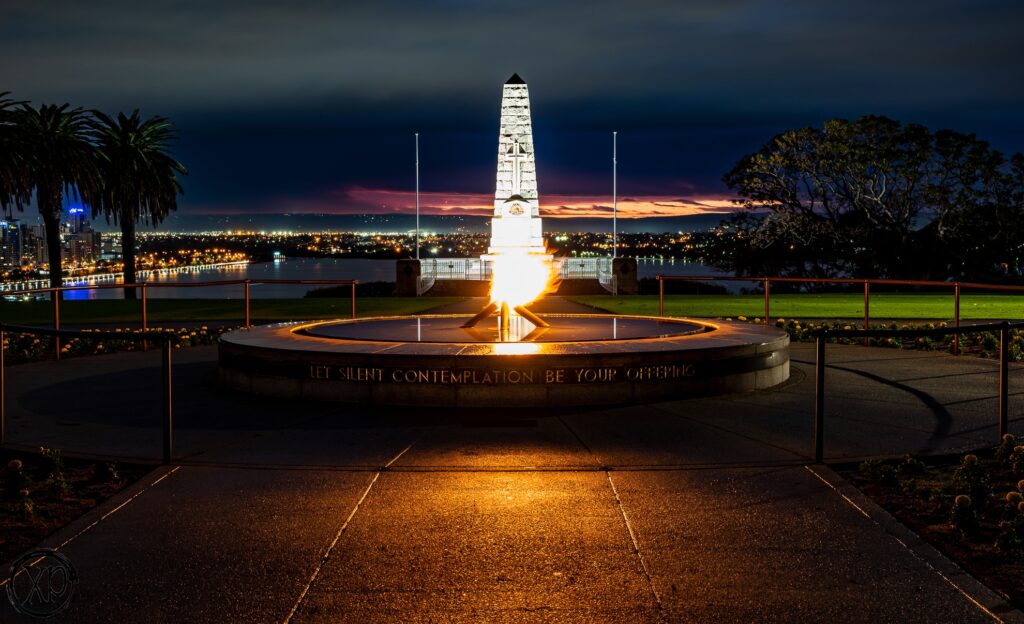 (30 sec at ƒ/10, ISO 100 Lens at 48 mm).
I arrived on site at Kings Park Perth WA. The little Nikon feeling really good in hand. I set it to manual, and to capture NEFs (RAW). The clouds where just brightening, I set the Z5 to 5 second delay (I did not get a remote trigger with it), mounted it on the tripod and took my first capture. (Why not jump into the deep end with a long 30sec exposure right?)
It was then that I discovered that the back screen was permanently on live mode and the touch screen was constantly active. In fact, I accidentally changed a couple of setting with my cheek. There is a menu setting to change this, and I would recommend doing so, but I simply did not have the time or inclination to both.
I was impressed with the capture. Clean, sharp, with little noise and brilliant colours. After a few more shots, I moved on to the next shot, however a few paces later, I saw a shot that looked amazing, I was in a rush so I used the brilliantly placed ISO button ramped up the ISO to 2000. Leaning against a pole for stability I handheld a 3 second shot at ƒ/10 (lens at 27 mm). It maybe a fluke but I could not believe how well the in-body Image stabilisation worked.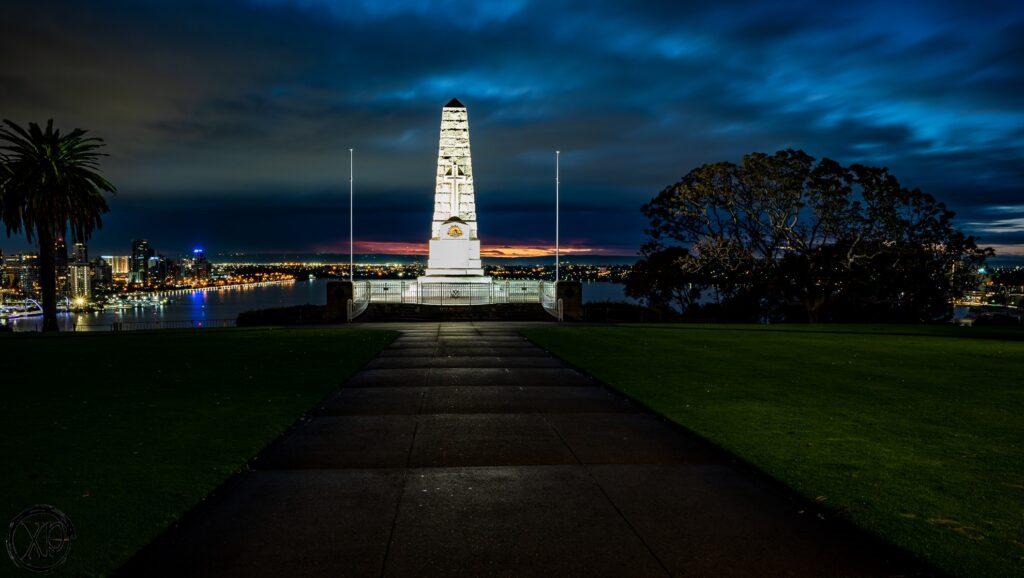 (3 sec at ƒ/10 , ISO 2000, Lens at 27 mm )
(Note I am using many old lenses without VR, I like the sharpness and I am poor… so) I am good at hand holding …. But not that good!!! At 1:1 there is some blur but at anything less than that is quite sharp.
This is also where I realised that unlike my DSLR the optical view finder become very pixelated, reminiscent of an old video camera in low light. While this had no affect of the image quality it did take a few shots to trust it.
I spent the rest of pre-dawn and dawn shooting the skyline, the clouds never gave me that explosion of colours I was hoping for but it did result in a nice city scape with some decent purple clouds.

(8.0 sec at ƒ/9.0, ISO 100, Lens at 24 mm)
Post-Dawn I headed to the beach, hoping the weather would clear and I would get some nice shots. I set the Z5 up to my standard, Aperture Priority/NEF/Auto WB. When it comes to my photography, I can handle most lighting conditions, dark, bright, storms, but the one thing that always leaves me flat is drizzle. Here I shot at Cottesloe Beach, an iconic Perth site, but the light was simply horrible. The Z5 did its job very well and was able to hand the poor lighting well but grey dull sky and flat light meant I captured little I would show the world.
(1/80 sec at ƒ/ 13, ISO 100, Lens at 31 mm)
As I said storms I can handle, with the Bureau of Meteorology, telling me that the weather here was going to get no better, but 20Km south it was going to get worse I jumped in the car and headed south for Fremantle.
Fremantle provided much more dramatic lighting (for a while) and the Z5 once a gain shined in the murky light. I headed straight for the lighthouse the bright red, against the dark clouds with light behind usually results in a blown-out highlight, but the matrix metering handled it very well.
(640 sec at ƒ/5.0, EV-0.3, ISO 100 Lens at 24 mm)
Time to test the Nikon Z5, as a tourist and so I head for the markets. Handheld shots in this type of mixed-light-indoor situation always challenges the image stabilisation and light metering of any camera. The Z5 almost made it too easy, and I was able to get creative with a handheld, mid-field-focus, close-up, long-Depth-of-Field shot (deep breath) of the fruit stand @1/4 sec.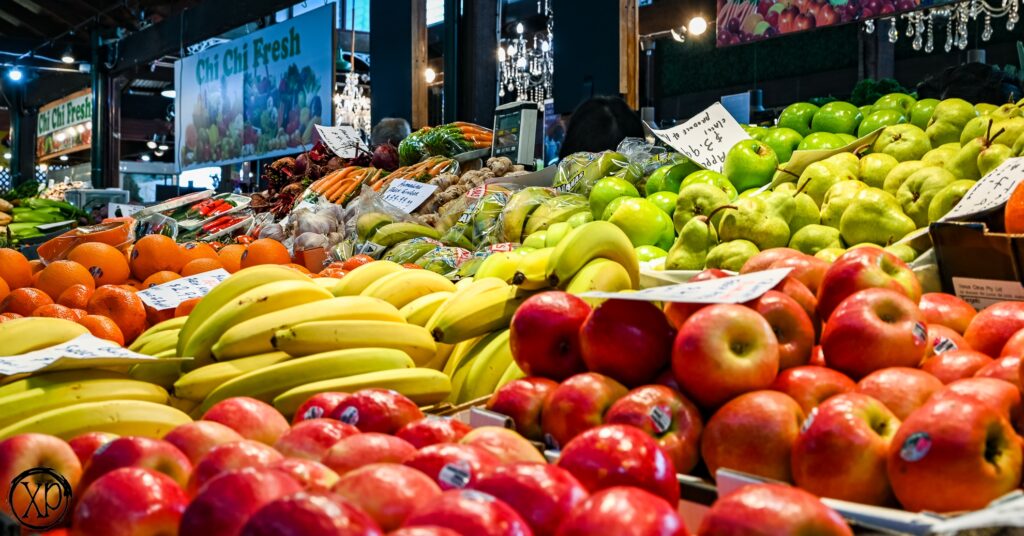 (1/4 sec at ƒ/11, ISO 100, Lens at 50 mm)
The shoot that first day, put the Nikon Z5 in some of the trickier photography/lighting situations, and performed well beyond my expectations considering I have had my hands on it for less than 36 hours. The Nikon Z5 handled everything I through at from, night work to, dark clouds to, wet streets to, street art to, to close-up flowers. I know it can handle the dark and difficult but how does it handle good light?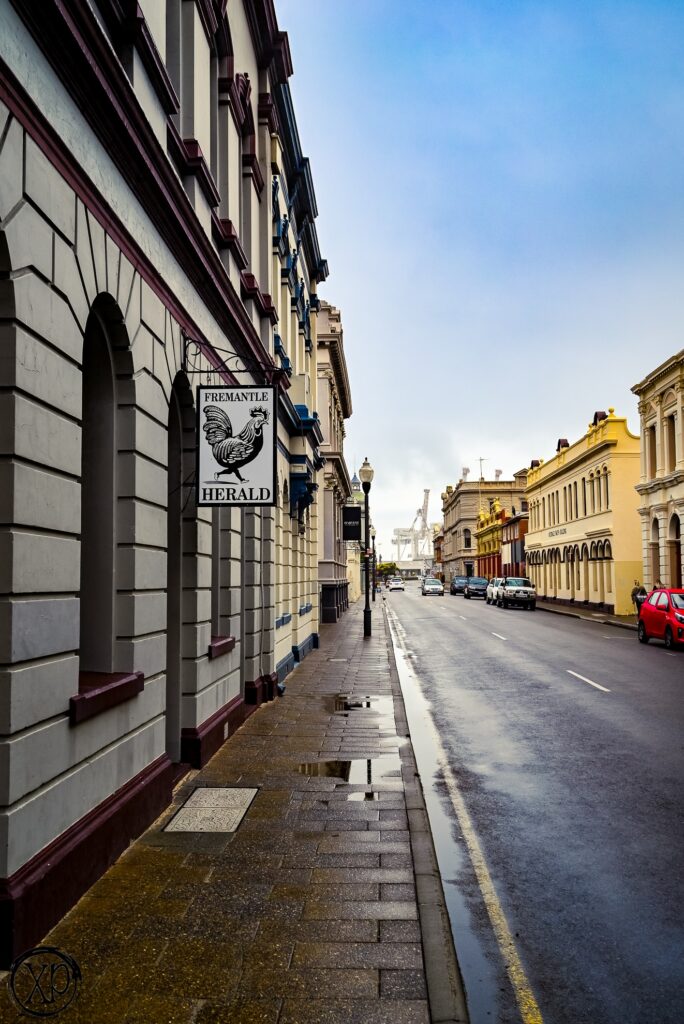 (1/320 sec at ƒ/4.8, ISO 100, Lens at 31.5 mm)
(1/80 sec at ƒ/5.0, ISO 100, Lens at 24 mm)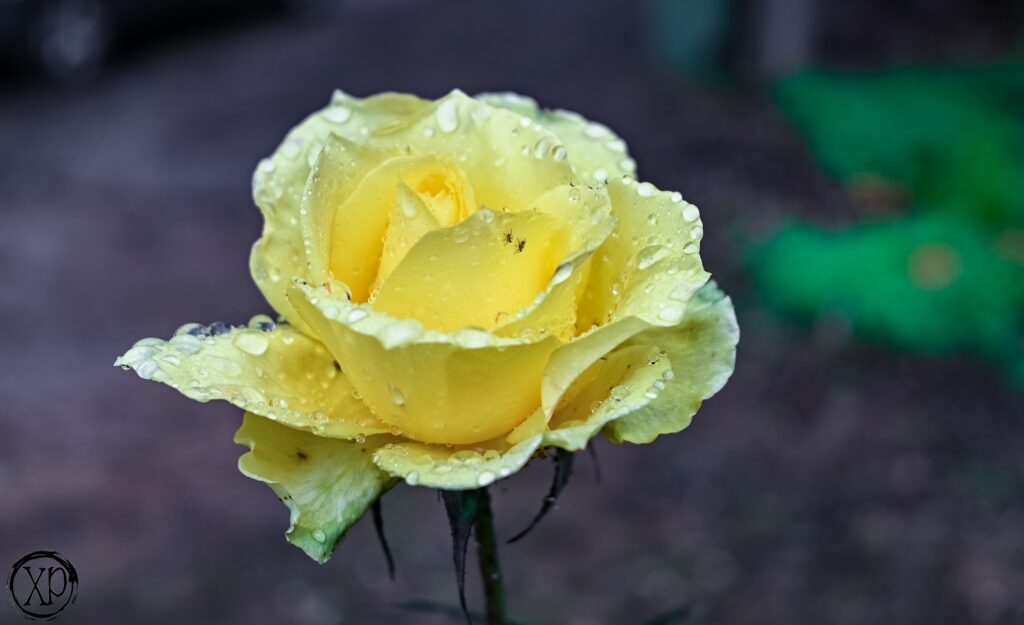 (1/200 sec at ƒ/6.3, ISO 100, Lens at 50 mm)
0400 and once again the infernal BEEP, BEEP, BEEP dragged me from my warm bed, and out into the (actually) frosty morning of the Perth hill for sunrise over the Mundaring Wier. The clouds had dissipated over night and with their absence came the cold. I was not rewarded with bright and vibrant colours but was given an ethereal low cloud just meters off the water, with nice golden and orange light. Despite my shivering the with little surprise the Z5 captured it perfectly.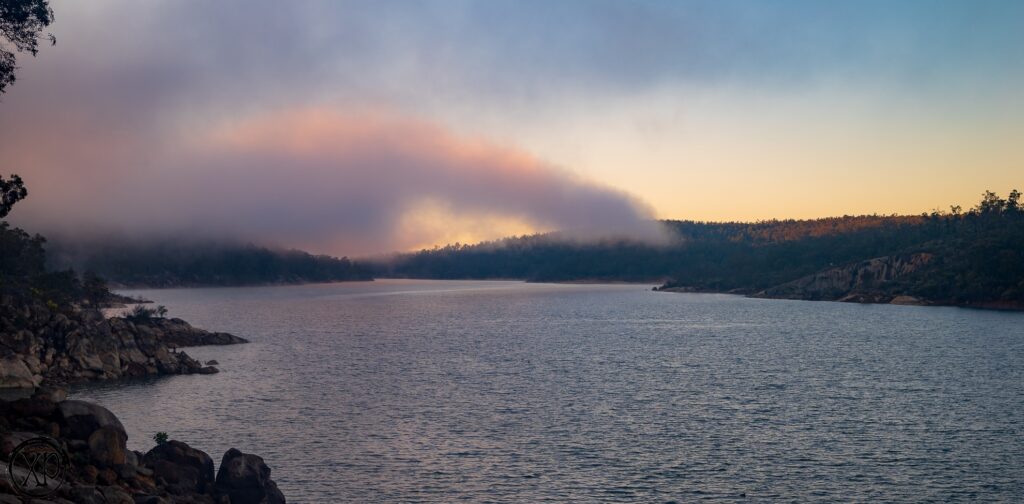 (1/30 sec at ƒ/11, ISO 100, Lens at 50 mm)
(1/250 sec at ƒ/14, ISO 100, Lens at 14 mm)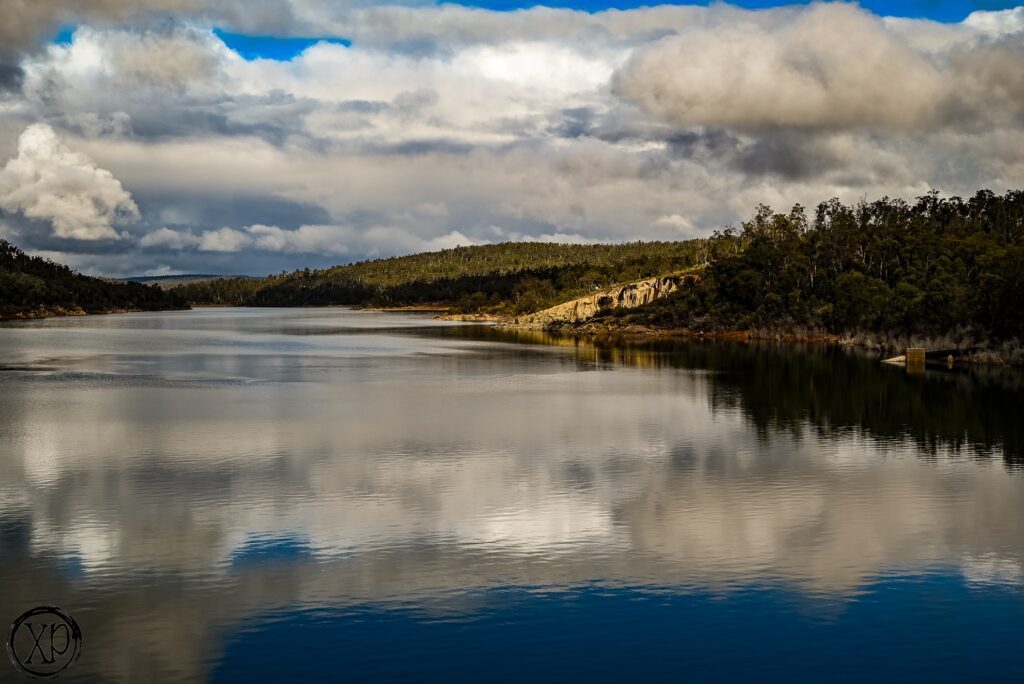 As the morning, brightened into day, I travelled into Perth to capture some street photography and my efforts were awarded with bright blue sky. Now I can see how the Z5 handles bright light and colour. I quit the train, the early morning sun illuminated a bright colourful mural which was surrounded by light coloured buildings and framed by blue sky and a black fence. This is the perfect scenario to cause chromatic aberration, however even with the kit lens the Nikon Z5 captured the image perfectly.
The 273 focus points really stared to show its power here, I could choose anywhere I wanted to focus, no need to focus, lock, recompose, then shoot. The excellent ergonomics once again came to light with the thumb joystick being just where my thumb wanted it to be no searching for it.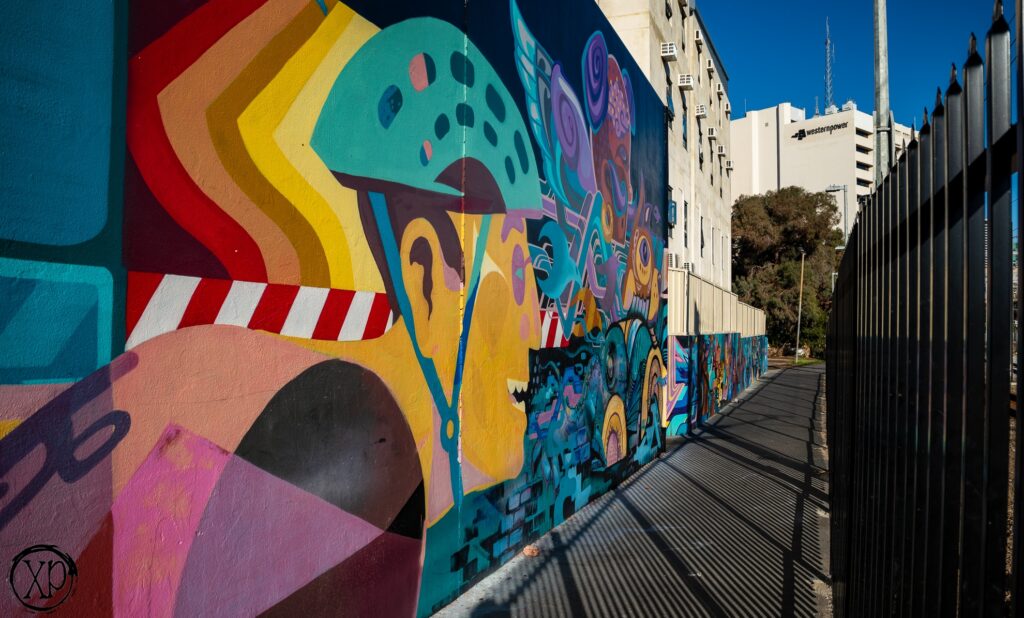 (1/640 sec at ƒ/6.3, ISO 100, Lens at 25.5mm)
The sun moved it to its highest and less flattering position, I toured the city capturing some vibrant images, and the Z5 performed perfectly. Really wanting to find the edges of this camera ability, I shot the extremes, dark lit churches, bright white and chrome modern "art" in noon sun, building details, reflections in glass and light cutting into deep shadow.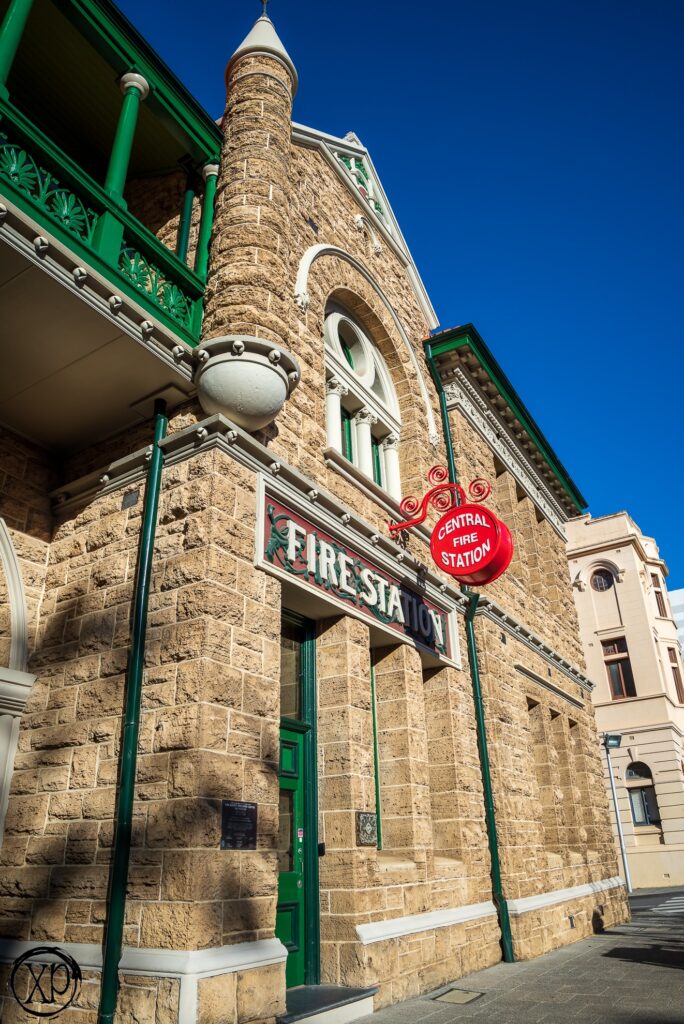 (1/320 sec at ƒ/10 ISO 100, Lens at 44 mm )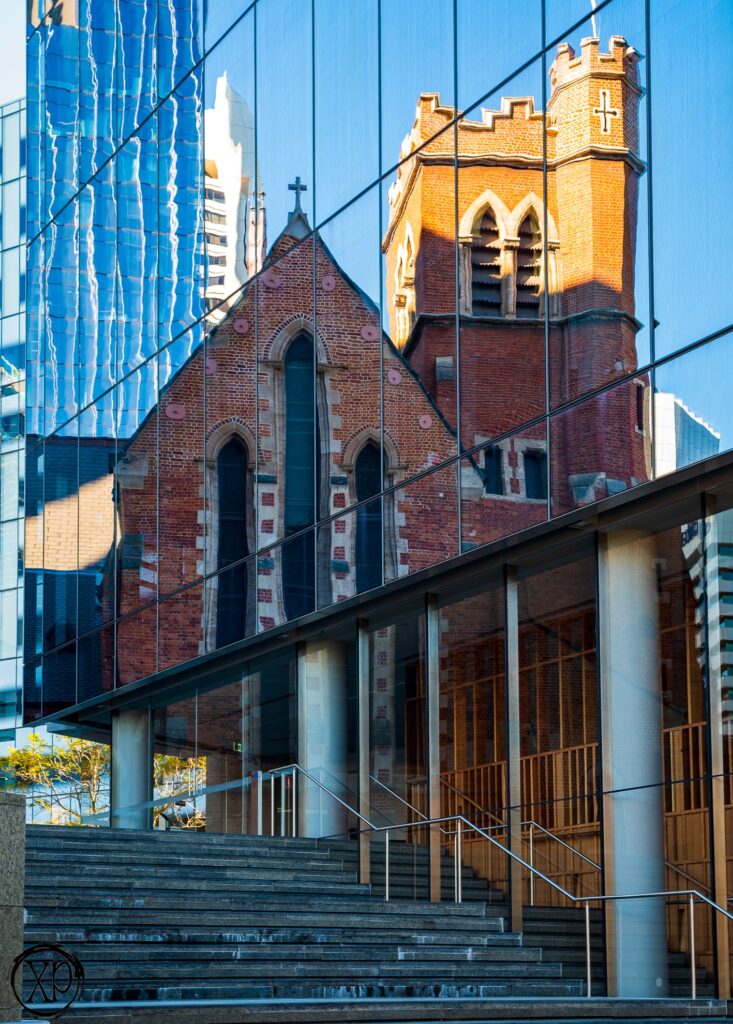 (1/250 sec at ƒ/7.1, ISO 100,Lens at 50 mm )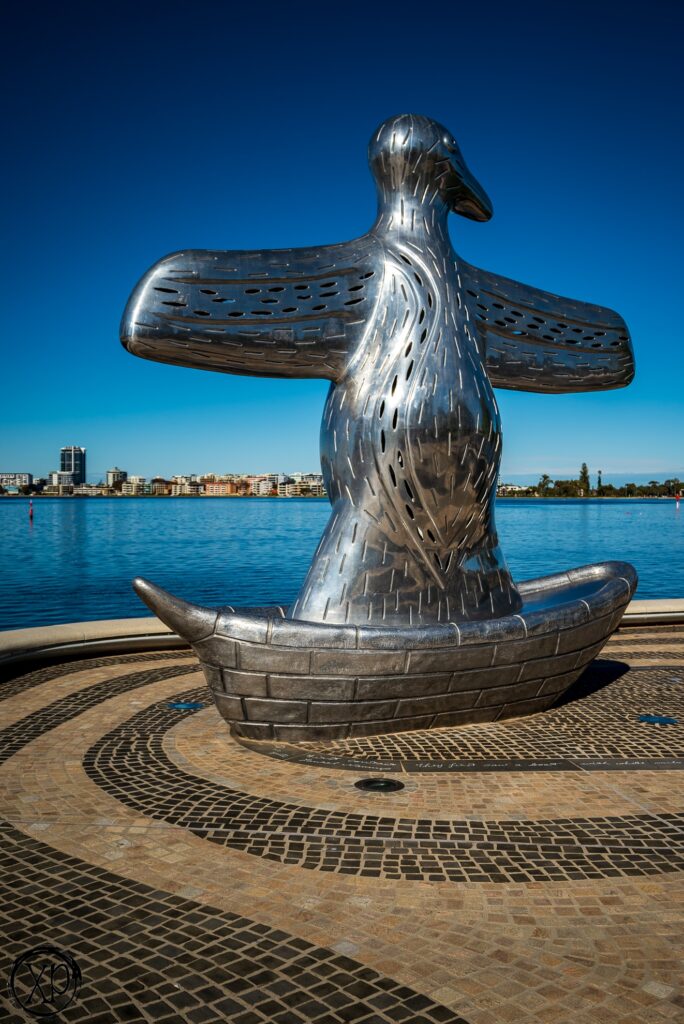 (1/2000 sec at ƒ/4.8, ISO 100,Lens at 50 mm )
The Z5 impressed me with its dynamic range and versatility. The fact that this camera uses a CMOS sensor that is not back lit, has had no effect of the quality of the blacks that I have been able to capture.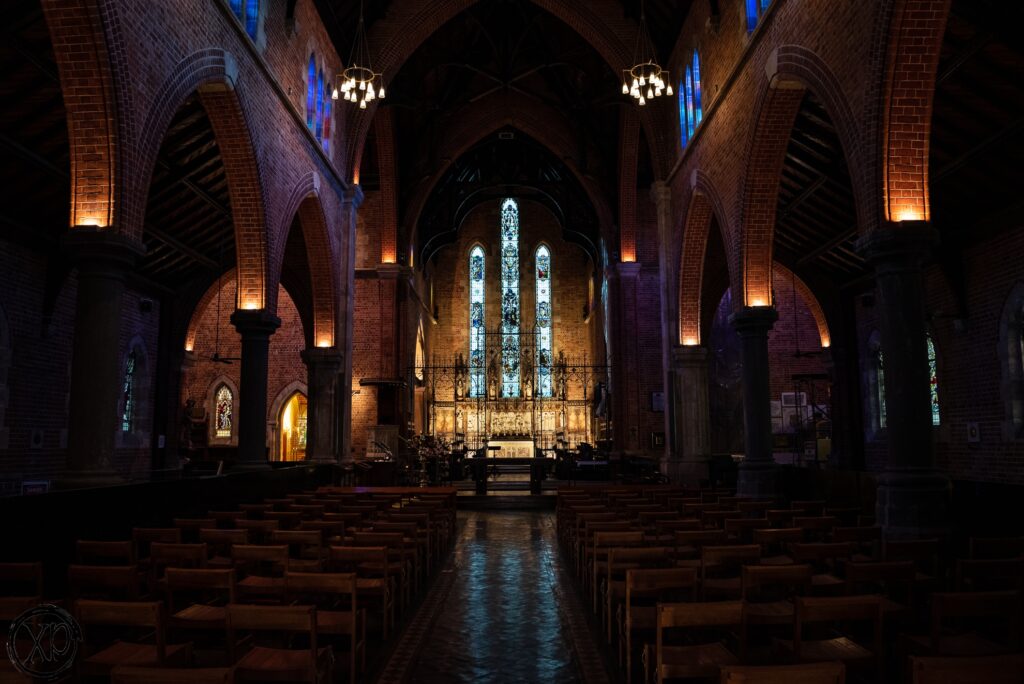 (1/30 sec at ƒ/5., ISO 2000, Lens at 24 mm)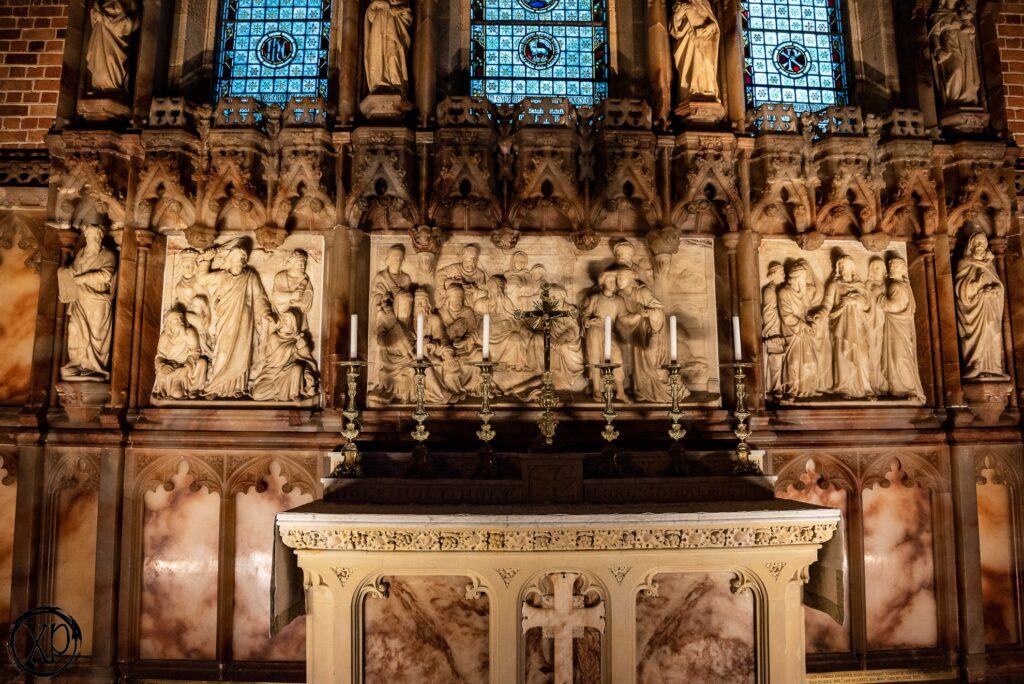 (1/80 sec at ƒ/5.6., ISO 2000, Lens at 24 mm)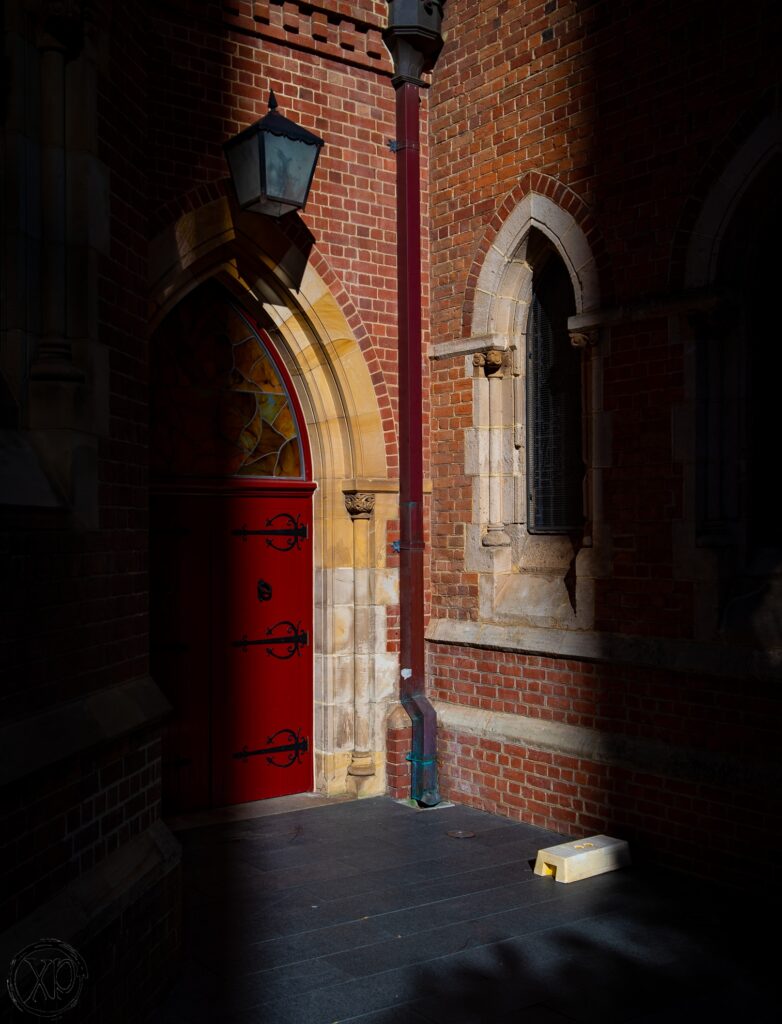 (1/30 sec at ƒ/5., ISO 2000, Lens at 35 mm)
The in-body-image-stabilisation handled these dark environments, without missing a beat. I don't think I took a motion blurred shot over the two days.
Now I did take some quick video, and I appreciate that the photo-to- video button is right there on where it should be, the in-body-image-stabilisation, was again amazing and it all made me look like I know what I am doing with video… which I don't.
I don't know video, which is why I am not going to insult this camera by reviewing its video capabilities, more than saying that if it lives up to its photographic capacity, it will be awesome.
I have tried a few mirrorlesses but was never WOWed by them. I always had the feeling that they were designed more for video then fine art photography. I admit, I wanted not to like this camera, I'm old and I like my DSLR, I did not want to want to move to a new format. But I do, and I will say that I think this camera is brilliant, it could convince me to switch and with the FTZ Adapter I can use most of my favourite lenses, I have little excuse.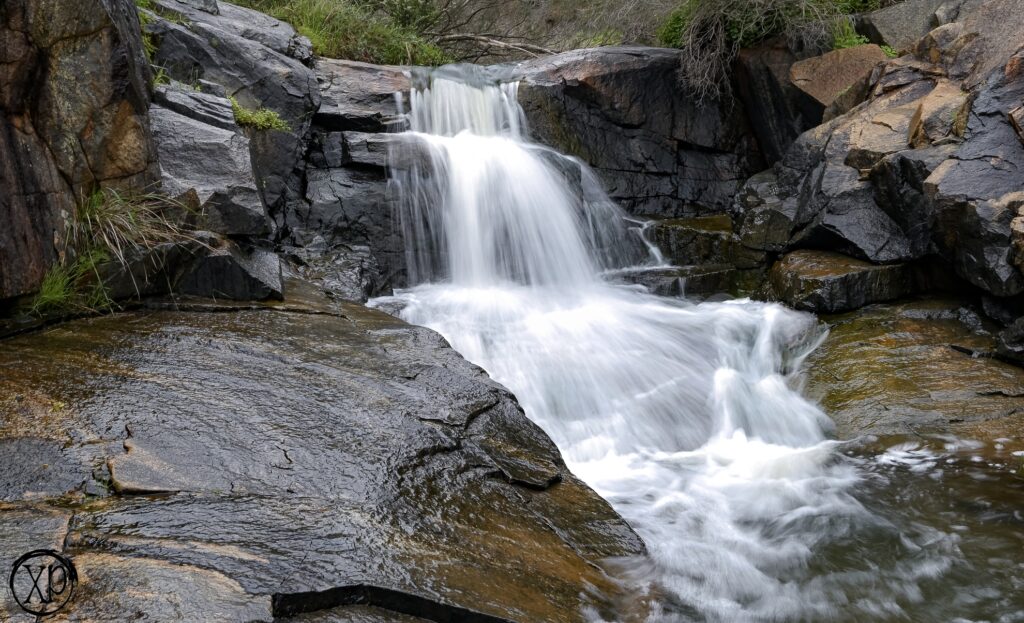 The Nikon Z5 is a brilliant camera, it would be excellent for any travel photographer, and has some features that put it over the Z6 and Z7 (e.g. dual cards). I for one can highly recommend this camera.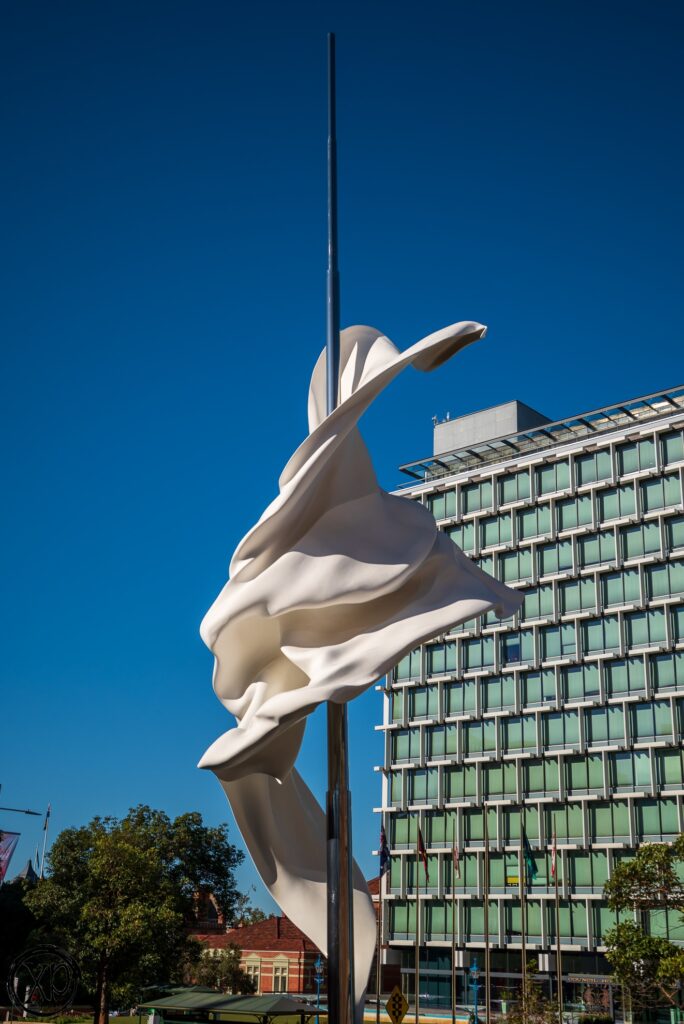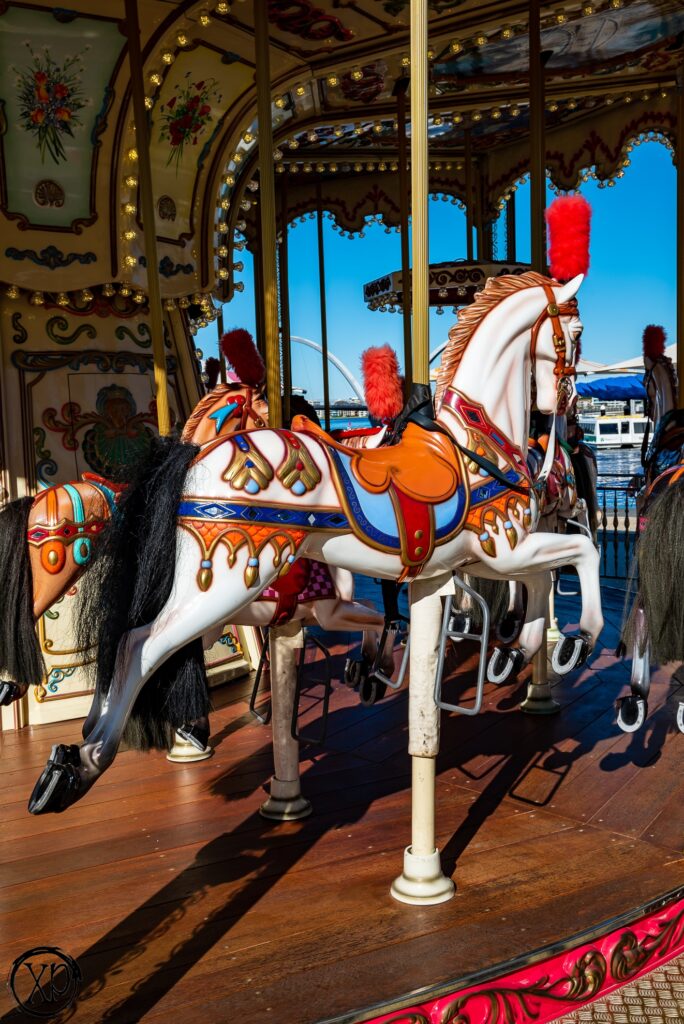 Nikon Z5 Tech Specs
Effective Pixels (Megapixels)
Storage Media

SD (Secure Digital) and UHS-II compliant SDHC and SDXC memory cards
ISO Sensitivity

ISO 100 – 51,200 in steps of 1/3 or 1/2 EV

Can also be set to approx. 0.3, 0.5, 0.7 or 1 EV (ISO 50 equivalent) below ISO 100 or to approx. 0.3, 0.5, 0.7, 1 EV (ISO 102,400 equivalent) above ISO 51,200; auto ISO sensitivity control available
Movie

4K UHD 3,840×2,160 / 30 fps

4K UHD 3,840×2,160 / 25 fps

4K UHD 3,840×2,160 / 24 fps

Full HD 1,920×1,080 / 60 fps

Full HD 1,920×1,080 / 50 fps

Full HD 1,920×1,080 / 30 fps

Full HD 1,920×1,080 / 25 fps

Full HD 1,920×1,080 / 24 fps

Actual frame rates for 60p, 50p, 30p, 25p, and 24p are 59.94, 50, 29.97, 25, and 23.976 fps respectively

Quality selection available at all sizes except 3,840 x 2,160 when quality is fixed at high
Battery / Batteries

One EN-EL15c rechargeable Li-ion battery

EN-EL15b/EN-EL15a/EN-EL15 batteries can also be used. Note, however, that fewer pictures can be taken on a single charge than with the EN-EL15c.

The EH-7P charging AC adapter can be used to charge EN-EL15c/EN-EL15b batteries only.

Size (camera body only)
100.5 mm h X (134 mm) w
590 g –
Image Sensor Type
Total Pixels
Dust-Reduction System

Image Dust Off reference data (requires Capture NX-D); image sensor cleaning
Photographs taken during movie recording at a frame size of 3,840 x 2,160:
Photographs taken during movie recording at other frame sizes: 1,920 x 1,080:
File Format Still Images

NEF (RAW): 12 or 14 bit (lossless compressed or compressed)

JPEG: JPEG-Baseline compliant with fine (approx. 1:4), normal (approx. 1:8), or basic (approx. 1:16) compression; size-priority and optimal-quality compression available

NEF (RAW) + JPEG: Single photograph recorded in both NEF (RAW) and JPEG formats
Storage Media

2X SD (Secure Digital) and UHS-II compliant SDHC and SDXC memory cards
Viewfinder

1.27-cm/0.5-in. approx. 3690k-dot (Quad VGA) OLED with color balance and auto and 11-level manual brightness controls

Viewfinder Frame Coverage
Viewfinder Magnification

Approx. 0.8x (50 mm lens at infinity, -1.0 m -1)

Viewfinder Eyepoint

21 mm (-1.0 m-1; from center surface of viewfinder eyepiece lens)

Viewfinder Diopter Adjustment
Eye Sensor

Automatically switches between monitor and viewfinder displays
Shutter Type

Electronically-controlled vertical-travel focal-plane mechanical shutter; electronic front-curtain shutter; electronic shutter

1/8000 to 30 sec. in steps of 1/3 or 1/2 EV, bulb, time, X200
Flash Sync Speed
Up to: X=1/200 sec.; synchronizes with shutter at 1/200 sec. or slower; Auto FP High-Speed sync supported
Exposure Metering System

TTL metering using camera image sensor

Metering Range

Matrix or center-weighted metering: -3 to +17 EV

Exposure Compensation

-5 to +5 EV in increments of 1/3 or 1/2 EV available in modes P, S, A, and M

Exposure Lock

Luminosity locked at detected value

Picture Control
Creative Picture Controls:

(Dream, Morning, Pop, Sunday, Somber, Dramatic, Silence, Bleached, Melancholic, Pure, Denim, Toy, Sepia, Blue, Red, Pink, Charcoal, Graphite, Binary, Carbon)

Active D-Lighting

Can be selected from:

Active D-Lighting Bracketing
Autofocus System

Hybrid phase-detection/contrast AF with AF assist

Detection Range

-3 to +19 EV (without low-light AF: -2 to +19 EV)

Measured in photo mode at ISO 100 and a temperature of 20 °C/68 °F using single-servo AF (AF-S) and a lens with a maximum aperture of f/2.0

Lens Servo

Autofocus (AF): Single-servo AF (AF-S); continuous-servo AF (AF-C); full-time AF (AF-F; available only in movie mode); predictive focus tracking

Manual focus (M): Electronic rangefinder can be used

273 (single-point AF)

Number of focus points available in photo mode with single-point AF selected for AF-area mode and FX selected for image area

AF-Area Mode

Pinpoint and Dynamic-area AF available in photo mode only

Focus can be locked by pressing shutter-release button halfway (single-servo AF) or by pressing center of sub-selector

Vibration Reduction

5-axis image sensor shift, lens shift available with VR lenses
Flash Control

TTL: i-TTL flash control; i-TTL balanced fill-flash is used with matrix, center-weighted, and highlight-weighted metering, standard i-TTL fill-flash with spot metering

Red-eye reduction with slow sync

Flash Compensation
– 3 to +1 EV in increments of 1/3 or 1/2 EV available in modes P, S, A, and M
Flash-ready Indicator

Lights when optional flash unit is fully charged; flashes as underexposure warning after flash is fired at full output

Accessory Shoe

ISO 518 hot-shoe with sync and data contacts and safety lock

Nikon Creative Lighting System (CLS)

i-TTL flash control, radio-controlled Advanced Wireless Lighting, optical Advanced Wireless Lighting, modeling illumination, FV lock, Color Information Communication, Auto FP High-Speed Sync, unified flash control
White Balance

Auto (3 types)

Choose color temperature (2,500 K–10,000 K)

Preset manual (up to 6 values can be stored), all with fine-tuning
Movie Metering

TTL exposure metering using main image sensor

Movie Maximum Recording Time
Movie File Format
Movie Audio Recording Format

4K UHD 3,840×2,160 / 30 fps

4K UHD 3,840×2,160 / 25 fps

4K UHD 3,840×2,160 / 24 fps

Full HD 1,920×1,080 / 60 fps

Full HD 1,920×1,080 / 50 fps

Full HD 1,920×1,080 / 30 fps

Full HD 1,920×1,080 / 25 fps

Full HD 1,920×1,080 / 24 fps

Actual frame rates for 60p, 50p, 30p, 25p, and 24p are 59.94, 50, 29.97, 25, and 23.976 fps respectively

Quality selection available at all sizes except 3,840 x 2,160 when quality is fixed at high
Movie Audio

Built-in stereo or external microphone with attenuator option; sensitivity can be adjusted

Movie ISO

Auto ISO sensitivity control (ISO 100 to 25,600)

M: Manual selection (ISO 100 to 25,600 in steps of 1/3 or 1/2 EV); auto ISO sensitivity control (ISO 100 to 25,600) available with selectable upper limit

P, S, A: Auto ISO sensitivity control (ISO 100 to 25,600) with selectable upper limit
Start/Stop supported
Movie Focus Peaking
Movie Highlight Display (Zebras)
Time-Lapse Movie
Up to 4K UHD; Silent mode option
AF for Movie
AF Speed and AF Tracking Sensitivity can be adjusted
Playback Functions

Full-frame and thumbnail (4, 9, or 72 images or calendar)

Photo and/or Movie Slide Shows

Playback with Playback Zoom
Wi-Fi Functionality

Standards: IEEE 802.11b/g/n/a/ac

2412–2462 MHz (channel 11) and 5180–5825 MHz (U.S.A., Canada, Mexico)

2412–2462 MHz (channel 11) and 5180–5805 MHz (other countries in the Americas)

Maximum output power (EIRP): 2.4 GHz band: 7.4 dBm 5 GHz band: 12.2 dBm

Authentication: Open system, WPA2-PSK
Smart Device App Connectivity
SnapBridge
Bluetooth

Communication protocols: Bluetooth Specification Version 4.2

Operating frequency: Bluetooth: 2402–2480 MHz

Bluetooth Low Energy: 2402–2480 MHz

Approximately 10 m (32 ft.) without interference; range may vary with signal strength and presence or absence of obstacles

GPS
Supported Languages

The languages available vary with the country or region in which the camera was originally purchased.
Battery / Batteries

One EN-EL15c rechargeable Li-ion battery

EN-EL15b/EN-EL15a/EN-EL15 batteries can also be used. Note, however, that fewer pictures can be taken on a single charge than with the EN-EL15c. The EH-7P charging AC adapter can be used to charge EN-EL15c/EN-EL15b batteries only.

Battery Life (shots per charge)

[Viewfinder only]: Approx. 390 shots

[Monitor only]: Approx. 470 shots
Movies: [Viewfinder only]: Approx. 115 min. of movie recording

[Monitor only]: Approx. 120 min. of movie recording

AC Adapter

EH-7P Charging AC Adapter

EH-5d/EH-5c/EH-5b AC Adapter (requires EP-5B power connector, available separately)
Tripod Socket
Operating Environment

Temperature: 32 to 104°F (0 to 40°C)

Humidity: Less than 85% (no condensation)